Launches a speaker smart high-end for $ 99 and two additional, Connect and Spot.
The new Echo from Amazon improved the design.
Amazon was the pioneer with the speakers intelligent and wants to keep his job. Alexa, your virtual assistant, came after Siri, of Apple, but with an ambition to go beyond the devices of Amazon. Huawei and some mobile manufacturers have already included this option.
After launching Echo, his first speaker, intelligent, and various versions, such as Dot, small and easy to hide in your room, and Show with screen to view video or make calls with image, just renew Echo with a clear positioning: to compete with Apple.
While the HomePod from Apple will arrive in December for $ 349, the Amazon cost 99. With respect to the previous have improved, a lot, the aesthetics. Since it is not something that chirríe in the house, but has a design more cozy. It has been presented in Seattle, in his offices, with a space simulating a home, and will come with six housing options to fit the style.
The sound now will be with the technology of Dolby, much more immersive and real, less metal. Have made a special effort in the integration of the microphones, so that the reception of orders is much more clean and, in a call, is remove the additional noise. With this new apparatus will include free calls to United States, Canada and Mexico. Something already offered by Google through Gmail or Hangouts, but it is new in the ecosystem of the great electronic commerce.
[mks_col] [mks_one_half]
Amazon has introduced a second device, Connect, for $ 35. It is a system to make calls. Dave Limp, exempleado of Apple and now head of devices at Amazon, explained that it will be able to call 911, the number of police in the United States, with only the use of voice. This positions it as a possible assistant for the elderly or people with reduced mobility who require help. You will come to the United States before the end of the year, as well as the Uk and Germany in early 2018.[/mks_one_half] [mks_one_half]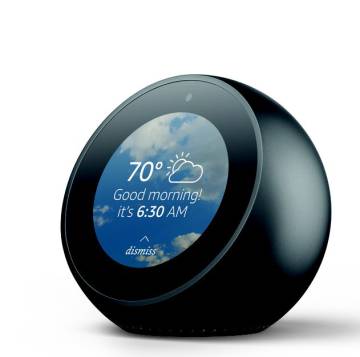 [/mks_one_half]
[/mks_col]
The Echo Spot is thinking to the bedside table. Small, circular screen, wants to replace the alarm clock with a touch, has a camera, so that allows you to make phone calls, or monitor a minor. It will cost $ 130 and will be sold in December in the United States.
These new speakers, in addition to being sold online, can be purchased at their physical stores, whether they be bookstores or supermarkets Whole Foods.
"My children and your not going to live a single day without an appliance that can talk", he reiterated Limp during the presentation. The manager revealed that the team of Alexa with more than 5,000 employees.
With this range of devices Amazon wants to reach all the spaces of the home, so soft, integrated without fanfare, but trying to encourage both the purchase as the automation control with the voice. Alexa is compatible with a large number of lights, like the Hue from Philips, electrical outlets, coffee makers and thermostats. Apple also is in the same field.
Two weeks after the presentation of a new Apple TV, Amazon responds with an update of his model that provides definition to 4K, and image in high dynamic range for 69 dollars. Less than half that of the version of Apple. The next 4 of October, Google will unveil its new mobile and, probably, new options to ride this wave.