Facebook believes that Russia used its platform to interfere in the U.S. presidential elections that he won Donald Trump in November of 2016.
The social network Facebook was added this week to the camp of those who believe that there actually was interference with Russian in the U.S elections: a special prosecutor investigates if such existed, and the possible collusion of the campaign of Trump with Moscow.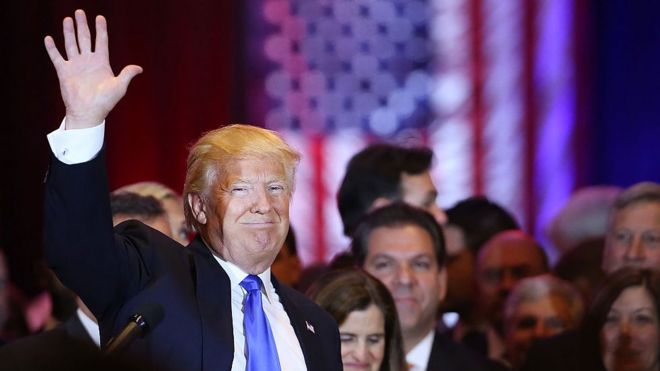 And he did it by means of a own research, as reported by the director of security of Facebook, Alex Stamos, who revealed that according to a research own about 3,000 in advertisements for value of $100,000 were purchased by a 470 «fake accounts» between June 2015 and may 2017.
«Our analysis suggests that these accounts and pages were linked to each other and that is more likely to operate from outside of Russia, «says Stamos.
But ensures that they also discussed «ads that could have originated in Russia, even those who were not connected with any organization.»
In this part of the analysis, they found approximately an expenditure of $50,000, about 2,000 ads «potentially related to politics.»
«There were many questions from the elections of the United States in 2016 on the interference of Russia in the electoral process,» wrote Stamos in a press release published this Wednesday in the official blog of the company.
«And one of the questions that arose is if there is a link between the efforts of Russia and the ads bought on Facebook«, he added.
The manager of the company says that Facebook «reviewed a variety of activities in order to understand what happened.»
But what were looking for and what techniques they used?
[anuncio_b30 id=1]
Racism, immigration, and «messages dividers»
---
According to Stamos, «the great majority of the ads generated by those accounts did not make any specific reference to the U.S. presidential election or the vote of a particular candidate».
How does the «false amplification»?
---
Creation of fake accounts
sometimes, en masse.
Repetitive content and quick messaging
shared in a coordinated manner.
Issuance of comments,

 many of nature harassing.

Creating groups or pages

 with the specific intent of distributing news biased or sensationalist.

Publication of memes,

 sometimes racist, and with photos and videos manipulated.
However, they seemed to focus on «amplify messages of social and political divisive, touching on issues related to the LGBT community and racial issues, immigration or rights-of-arms».
To do this, » explains the social network, referring to a document published in April – used different techniques, such as the «false amplification», to promote or denigrate a specific cause, to show distrust in political institutions or generate confusion.
The report, however, is somewhat ambiguous and does not point directly to any Russian company.
However, Facebook stated that it closed the pages and accounts linked to these activities.
Andrey Soshnikov, a correspondent for the service Russian BBC in Moscow, told the BBC that some of these pages have hundreds of thousands of subscribers and their publications had a range of up to four million people.
«Your business is the astroturfing, that translates (in this case) to create a public opinion of pro-Kremlin through enormous amounts of identities on the internet«, explained Soshnikov.
In addition, he said that «the trolls russians also specialize in cyber-bullying and attack people with democratic viewpoints on the internet«.
What are you looking for this kind of campaign?
---
Promote or denigrate a cause

is the manifestation more directly by the «false amplification». 

Includes memes and false news.

Show distrust in institutions

undermining the status quo of political bodies or civil.

Generate confusion

 increasing tensions between followers, or cracking their bases.
[anuncio_b30 id=1]
Repetitive content and sensationalism
---
Facebook said that some of the techniques used by the administrators of those groups and pages include the creation of fake accounts, the distribution of repetitive contentand rapid publishing through different profiles and groups and the coordination of reactions.
It also speaks of the creation of pages and groups with the specific aim of generating sensationalism or broadcast news, and headlines very biased, often based on distortions of facts.
The creation of memes «racist and defamatory» tends to be, according to the social network, another of the tactics used, using photos and videos manipulated.
In addition, he says that she does not use bots. usually be people behind these accounts.
«We have seen many actions on the part of those who operate fake accounts that could only be carried out by persons with language skills and a basic knowledge of the political situation in the chosen countries».
Since the republican Donald Trump won the presidential election on the 8th of November, there are a few that have pointed to an alleged interference of the Kremlin in order to achieve such a result.
First were the intelligence agencies of your own country, who accused «individuals with ties to the Russian government» to filter the thousands of emails hacked from the campaign of the Democratic Party.
After, several media outlets -led by The Washington Post and The New York Times- have published extensive reports on what they called the «car of the Kremlin» and their campaigns alleged campaigns in favor of Trump on social networks.
And little by little, heads were now turning towards Facebook and the idea of its possible use to disseminate false information and to manipulate the public opinion, especially the undecided voters.
After the barrage of criticism, the company responded. Its founder, Mark Zuckerberg, came to tell the BBC that he knew that «there is false information and content that is misleading,» and even stated that it assumed its responsibility to «fight» this problem.
On this occasion, Stamos clarified that Facebook has shared its findings with the U.S authorities and that it «will continue to work with them as much as necessary».
SOURCE: BBC